Drum Camp

Keith Carlock | Stanton Moore | George Kollias | Kostas Milonas | Alex Ktistakis
'This will be one of the best drum camps in the planet!'
Gergo Borlai
'If you want to improve as a drummer, this is the place to be!'
Ralf Gottlieb
'This drum camp is really special!'
Virgil Donati
'Nobody will regret joining this camp!'
George Kollias

Powered by:

5 days of extreme drums training with some of the world's top drummers in an amazing location!
✓ You will attend 20+ hours of top quality seminars
✓ You will jam with other drummers & professional musicians all night long
✓ You will enjoy the Ranch living in the nature trying out exciting sports (horse riding, Archery, Swimming, etc)
✓ And last but not least, you will spend plenty of time with your idols and other drummers from all over the world!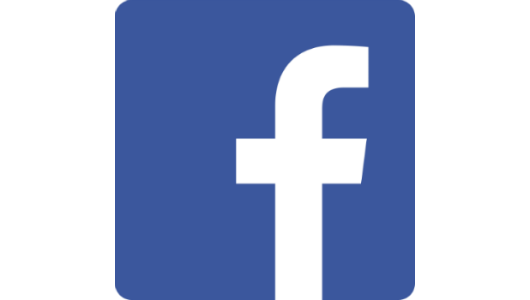 CHECK OUT WHAT HAPPENED LAST YEAR! :
TEACHERS:
The legendary
Keith Carlock
(John Mayer, Sting, Steely Dan, James Taylor, TOTO, Oz Noy, Mike Stern)

Groove Master
Stanton Moore
(Galactic, Tom Morello, Maceo Parker, Stanton Moore Trio, Corrosion Of Conformity, Garage A Trois, DJ Shadow)
Extreme Metal Titan
George Kollias
(NILE)
Powerhouse Drummer
Kostas Milonas
Kostas has appeared on stage from Underground clubs , Churches to Agganis Arena, Jazz At Lincoln Center and PPM Fest, Monsters Of Rock Cruise and recorded with musicians like Carol King, Willie Nelson , Annie Lenox ,Tina Arena, Jorge Calandreli,Alexandra Burke , Tammy McCann, Kris Kristofferson ,Steve Wood, Sissel Kyrkjebø, Daniella Lugassy, National Symphony Orchestra Of Nerit, Symphony Orchestra Of Athens, John Patitucci, Steve Bailey, Mario Frangoulis , Elli Paspala, Haris Alexiou, Mimis Plessas, Stefanos Korkolis,Antonis Remos, Giannis Ploutarxos, Glykeria , Foteini Darra,George Perris, Melina Aslanidou , Eleni Foureira, Tamta ,Kostas Martakis, Sofia Vossou , Dimitris Bassis, Giannis Savidakis,Vaggelis Germanos,Kostas Leivadas,Nikos Kalliinis,Ekeinos K Ekeinos, Delek Coch, Mayeli Burguete, Gus G (Ozzy Ozbourne,Firewind) , Warrel Dane(Nevermore,Sanctuary), Derek Sherinian, Andy James, Marco Sfogli, Bob Katsionis , Liv Kristine, Sunburst ,Paradox, Doraccor,Foray Between Ocean, New Day Slave among many others artists and bands touring all over the world. Kostas currently is the drummer for the biggest greek pop star Sakis Rouvas.

He holds a degree in drums from Philipos Nakas Conservatory , London College Of Music and recently graduated with honors and a degree in performance major from Berklee College Of Music. He is fortunate enough to have studied performance with great musicians like Rod Morgestein, Ian Froman, John Blackwell , Bob Gulloti , Kim Plainfield , Marko Djordjevic , Ed Saindon, Gustavo Agatiello and Ilias Doumanis.

Top Greek Jazz Drummer
Alex Ktistakis
Alex Drakos Ktistakis has a Master's Degree in jazz performing, from the Ionian University of Greece.
He has also studied jazz drums performance in Athens. He has participated in the International Association of Schools of Jazz (I.A.S.J.) at Berklee College of music. Studied (private lessons) next to Ron Savage, Ralph Peterson, Lee Pierson, Antonio Sanchez.
As an artist he has performed with a variety of great musicians worldwide in jazz, latin-jazz, funk, fusion-Jazz and Greek music, such as Anthony Jackson, Eric Marienthal, Bireli Lagrene, Dulce Pontes, Tony Lakatos, Bob Francheschini, Brett Garsed, Mark Murphy, Frank Gambale, Lu Solof, Mitchel Forman, Alex Foster, Dave Friedman, Bobby Few, Mike Miller, Abram Wilson, Miles Griffith, Greg Beily, Amik Guerra, Soweto Kinch, Denys Baptiste, Jason Yarde, Rex Richardson, Paul Clarvis, Tony Remy, Reiner Witzel, Igor Lumpert, Joel Soto, Takis Paterelis, George Kontrafouris, Dimitris Vasilakis, Yorgos Fakanas Group, Eleftheria Arvanitaki, Dimitra Galani, Tania Tsanaklidoy, Michalis Hadjiyannis, Eleni Peta, Fivos Delivorias, Alexia, Donisis Tsaknis.
He is an active recording artist in a variety of music projects and on different kinds of music.
He had been teacher at the Ionian University- Music Departement (faculty of jazz) for six years. He had been a drums instructor at conservatory "Filipos Nakas" of Athens for several years.
He is the education Manager in Lab Music Education, having under his supervision the modification, the development and the proper conduct of the curriculum and syllabus. At the same time he teaches drums.
He is the executive director of the Lab Music Education Crete.
LOCATION:
Experience a legendary place!
Welcome to The Ranch, Greece's first destination for events and conferences and the finest summer camp in the country. Nestled on 400 acres in the Peloponnese in mainland Greece, we combine stunning natural beauty with top modern facilities in our Western-themed accommodations.
Our goal at The Ranch is to offer you action, sports and entertainment. Play, learn and grow while participating in one of our many activities or design your own adventure getaway. Our creative experienced staff can make sure that you will have the time of your life in an environment combining both the ancient and the new.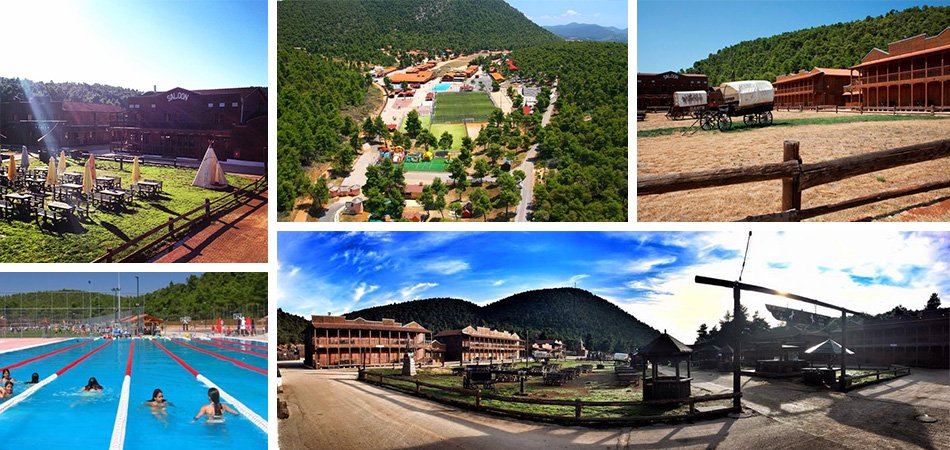 PRICING: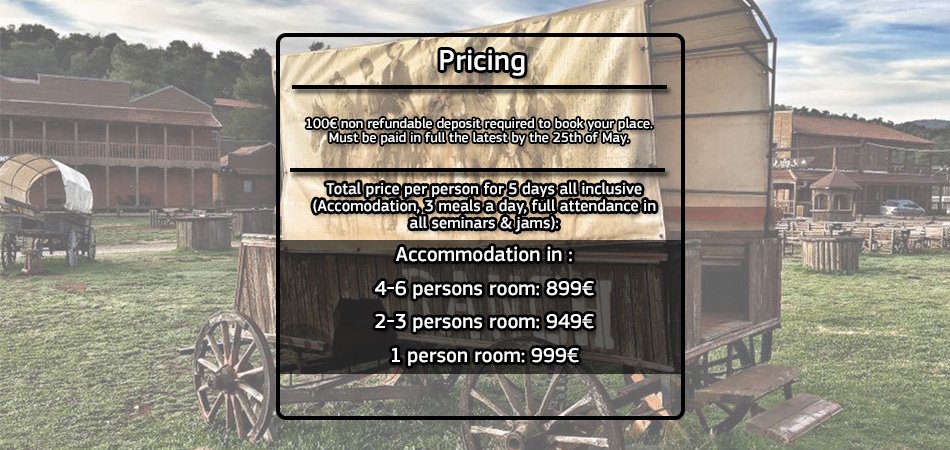 Special prices for LAB | Music Education active students*
Contact LAB for details

Special Visitor's package:
Total price per person for 5 days all inclusive WITHOUT seminar attendance (Accommodation, 3 meals a day):
Accommodation in 4-6 persons room: 299€
Accommodation in 2-3 persons room: 349€

Limited availability (45 students max). First come first served.
What's included?
✓24 hours of top quality seminars
✓Unlimited participation in the night drum battles & jams along with professional musicians (Bass, Guitar, Keys)
✓3 meals a day (Breakfast – lunch – dinner)
✓Bar service available but not included in the price
✓Accomodation in wooden rooms depending on the reservation type (single, double/triple, sextuple)
✓Transportation by Bus from/to Athens city center to/from the Camp (aprox.1 1/2 hours)
✓The 'LAB Drum Camp Book' containing all teachers' curriculum
✓LAB Camp T-shirt
✓Certificate of attendance signed by artists
✓Unlimited use of all Ranch facilities, activities and sports center
✓Use of DW Go-anywhere Practice kit, stool and music stand
*We would like to inform you that a fully equipped medical office is available for all the visitors of the Ranch. The Ranch is located in a private, 24h secured area, with every security certification. Strict hygiene rules are applied.
SCHEDULE: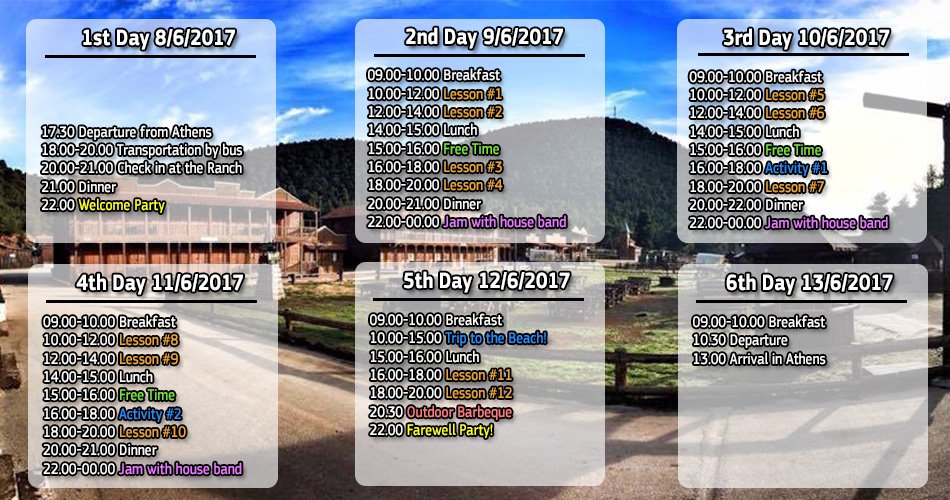 FAQ:
· What about gear?
A DW Go Anywhere™ 5-Piece Practice Set, a drum throne and a music stand will be available for each student free of charge!
You should only bring your drumsticks and your bass drum pedal.
· What about language?
Lessons will be held in English.
· How do I get there?
Closest airport is Athens International Airport (ATH). It is 40 kilometers away from Athens city center which is where the bus to the Ranch will be departing from. Athens city center is reached easily in about 45 minutes either by getting on the metro or taking a bus. A metro round ticket currently costs 18€ while a bus round ticket costs 12€.
Transportation by bus from Athens to the Ranch (100 km) and back is included in the price. The bus will depart from Athens at 17.30 on the 8th of June and will depart from the Ranch to Athens at 10.30 on the 13th of June.
We strongly advice that you arrive in Athens no later than the morning of the 8th of June and arrange your departure for not earlier than 6pm on the 13th.
· What about my drumming level?
Students of the LAB Camp will be divided into 2 or 3 groups (maximum 15 students each). All will get the same amount of seminars from the same teachers but adapted to each group's level. This means than you will be in a group of similar level and the curriculum will be designed to serve your needs.
· What about my age?
People of all ages are welcome! However minors must provide a signed minor consent form or be accompanied by a legal guardian. For your convenience we offer a special visitor's package. Check above.
· Can I come with a friend?
Yes of course you can! Your friend can also get the special visitor's package which includes everything but the lessons. Non drummers will also have a great time since you can never get bored at the Ranch!
· Can I record the lessons?
This depends on each teacher. If you wish to record part of a lesson for personal use, please remember to ask the teacher in advance. If he permits the recording, then we also do.
Secure your spot now!
All Inclusive Drum Camp Ticket
Special Visitor's package
Total price per person for 4 days all inclusive WITHOUT seminar attendance(Accomodation, 3 meals a day):
Drum Camp ticket deposit
Reserve your place and pay later (You will receive an email with payment options and due dates.)